Grime Beyond Borders: Manchester and beyond
We explore the impact of grime abroad through the lens of Manchester-based cultural exchange programme Grime Beyond Borders
The ascent of grime
Perhaps the surest sign of grime as a cultural force right now, but also the most surprising so far, is the Grime4Corbyn movement, which undoubtedly played a role in the mobilisation of young people to make their voices heard in the June general election. From Novelist to Stormzy and Akala, many grime artists urged their fans to register to vote and showed their support for the Labour party.
The fact that Labour Leader Jeremy Corbyn sat down for an interview with Boy Better Know founding member JME (aka Jamie Adenuga), and the Labour Party released an official campaign video where West London MC AJ Tracey talks about the Tory-exacerbated London housing crisis and the privatisation of the NHS, shows that grime is now acknowledged as a powerful tool of social engagement and not just a musical genre.
Given that grime has been an underground movement for the majority of its two-decade long history, this is a huge achievement and one that even its closest observers didn't see coming. This includes Danny 'Falz' Fahey, a former UK hip-hop and garage MC and now culture-maker, whose Manchester-based leadership programme for young men, Thirty Pound Gentleman, facilitates a grime exchange between MCs from the UK and abroad.
"This time last year, if someone said to me 'who's gonna be the star of grime?' I wouldn't have said Stormzy," Fahey tells me as we sit down for a chat in his Salford office, which is as much an homage to UK urban music as it is a workplace. Hattie Collins and Olivia Rose's 2016 book This Is Grime lies on the coffee table, while a poster of Brixton musician GAIKA adorns the wall. "I think Stormzy's an amazing MC, but I wouldn't have thought that it would be him because the music industry and the media wasn't ready," Fahey continues. "I would have thought it's going to be a female or it's going to be repackaged like a safe white Eminem rapper, or maybe Drake is going to call it something else and sell it to the world. But they're not dictating this, the people are, and the people wanted Stormzy so that's who you have."
The mobilisation of these young people through grime is perhaps the genre's most exciting characteristic at the moment, but at its heart is a very specific type of music, a genre that is still oftentimes completely misunderstood by mainstream music critics. A well-publicised and widely mocked example was when Evening Standard writer John Aizlewood reviewed Skepta's performance at Alexandra Palace in December 2016 and mistook the reload for a technical problem, writing that "songs were restarted and…the audience sloped home unsatisfied."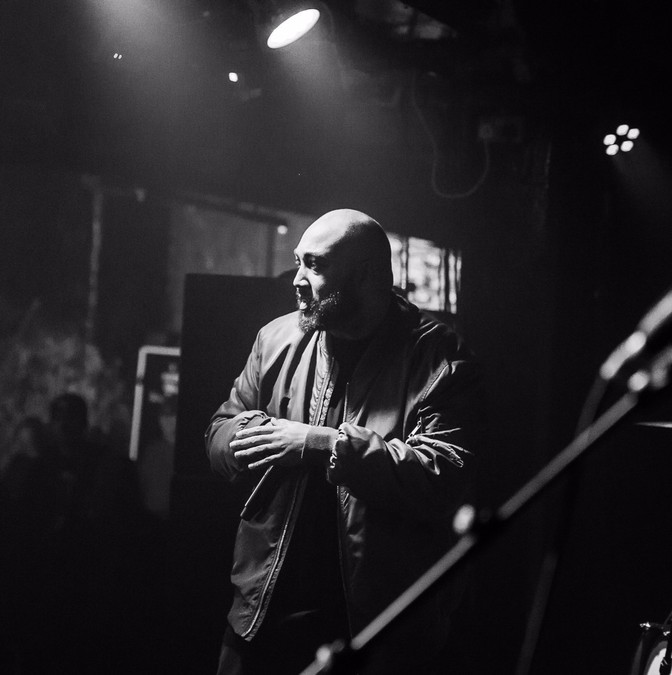 Danny 'Falz' Fahey (image: Dec Place)
But it isn't only British middle-class journalists who are getting it wrong with grime. "There are people in North America and other countries that will maybe cite Giggs (a UK rap MC) as a grime artist," explains Fahey. "But that's because they don't understand the nuances and the differences. They can't always hear it and they can't always feel it. I think that happens a lot and I think it's to be expected. For some people they just expect that if you're an artist from the UK and if you MC in your own accent at any tempo apart from a traditional hip-hop, 85-95 BPM swing, you must be a grime artist."
Another misconception that often crops up is that grime evolved from American hip-hop. In actuality, grime is more closely linked with UK music genres such as jungle, drum 'n' bass, UK garage and Jamaican soundsystem culture. Typified by a DIY aesthetic, it was born in the early 2000s on pirate radio stations in East London council estates, where MCs would spit about the harsh realities of inner-city life. Its sound is therefore darker and colder than the music from which it evolved, with grime pioneer Wiley naming his own variation Eskibeat. 
Grime achieved some commercial success and music industry recognition during what some describe as its first wave with other prominent artists including Kano and Lethal Bizzle. In 2003, Dizzee Rascal won a Mercury Prize for his debut album Boy In da Corner. But with record deals came compromises, as music industry bosses pressured artists to dilute their sound to appeal to a wider demographic. Some artists found crossover appeal, but few careers lasted. Then, after nearly a decade of little commercial success, grime returned to the charts in 2014, when Meridian Dan released German Whip. Skepta soon followed with That's Not Me, a back-to-basics sound and aesthetic which set the groundwork for the return of the pioneers and inspired a whole new generation of MCs.
Grime's current position as Britain's leading musical genre has been certified by several high-profile moments. In 2016 Skepta won the Mercury Prize for his album Konnichiwa, Stormzy's Gang Signs & Prayer topped the album charts on its release in February, and on August Bank Holiday weekend Boy Better Know will take over London's O2 Arena for an all day event. Even the outdated dinosaur that is the Brit Awards has finally caught on, with Skepta performing his track Shutdown at this year's ceremony. Streaming platforms such as Apple and Spotify too have finally stopped classifying grime as hip-hop and electronic music.
Seeing as at the centre of grime is an anti-establishment ethos and because it is popular among young people, the music and culture are now often compared to punk. "People do that because it's easy," Fahey proposes, not wholeheartedly agreeing with such an association himself. "They do that because it's fast, it's aggressive, people jump up and down, and it's British. But maybe grime is the new jazz because while it has its place in the social and political sphere, it's unashamedly black music."
It is precisely because grime is unashamedly black that – despite there now being ever more successes to be celebrated – it is still the subject of discrimination. Form 696, the controversial police measure used to assess the risk of violence at music events by gathering the personal details of artists and promoters and historically applied to shut down grime raves was back in the news this March. Culture Minister Matt Hancock sent London Mayor Sadiq Khan a letter raising the concern that the form singled out specific music genres, including grime, which suggests that despite grime's success, it's still a genre facing many prejudices. 
The birth of Grime Beyond Borders
However, it wasn't because of grime's success as a music genre, the culture's impact on the political engagement of young people or indeed its discrimination at the hands of police that gave the Thirty Pound Gentleman director the idea for Grime Beyond Borders. Fahey decided to start the project after seeing the scene's impact in Europe, and specifically, on Czech artist Smack.
He discovered the 26 year-old MC while attending Czech festival Hip Hop Kemp in the summer of 2016, where the artist was performing. "Smack lives the culture," Fahey tells me. "It shows in his flows, it shows in his dress sense, it shows in his attitude, it shows in his integrity as an artist. It made me really think about investigating and exploring what that means. How does an artist, a young MC from Prague 10 become so heavily influenced by this culture, this unashamedly black British culture so far away? How did he find out about it, how did he decide that was going to be his lifestyle, that was going to represent him as a person?"
In his adoption of grime, Smack isn't alone. Fahey cites France, Denmark and the Netherlands as countries where mature grime scenes exist and suggests that in some places, these grime artists have long been achieving the kind of mainstream success British MCs are only enjoying now. "Benny Jamz has been active in Denmark for more than five years and if I'm not mistaken he's already had a number one in the grime genre in Denmark when I don't think we'd had a number one grime song in the UK yet," he tells me.
While, much like Benny Jamz, Smack enjoys similar popularity in his own country and more than that, has been recognised in the UK by gatekeepers such as the pioneering DVD series and now YouTube channel Risky Roadz and tastemakers Sir Spyro and Sian Anderson, he is likely to remain on the periphery due to the fact that he spits in Czech. This aligns him with regional grime artists such as Manchester's Slay, who are still largely missing from the upper echelons of the UK grime scene. "The idea that people don't want to support regional accents in MC culture is kind of fading away, but when you're thinking of specifically grime artists who are really emerging there's only one in the top tier," Fahey says, referring to Manchester's Bugzy Malone.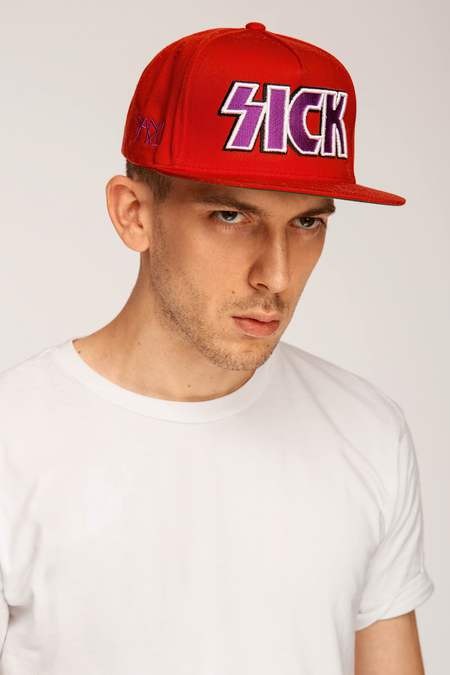 Smack (image: Robin Bery)

Although regional grime artists have always existed and, indeed, played their part in shaping grime culture from its inception, often places like Manchester are mentioned with an air of nostalgia by grime's biggest stars. For example, while being interviewed by journalist Hattie Collins during a 2015 Manchester Red Bull Music Academy lecture, Skepta credits early career visits to Manchester and Liverpool with making him question his America-influenced dress sense, and in turn, his time spent in the north informed his all-black tracksuit aesthetic, but struggles to name any Manchester grime artists he rates, opting instead to say he likes Trigga, an MC more closely linked with genres such as drum 'n' bass and jungle. Similarly, Wiley is more likely to shoutout Shifty at a Manchester show than any up-and-coming MCs from the city.
This lack of engagement with current local scenes – even if non-intentional, and perhaps understandable due to these artists' busy release schedules and international touring commitments – suggests that Manchester's best grime days are in the past. This notion is compounded by the city's reputation as a centre of genre-blending music, with collectives such as Levelz asserting in interviews that they are not a grime act, but rather an amalgamation of various different sounds, coupled with Bugzy Malone operating as a solo entity; it creates the impression that Manchester's current grime scene is small and insignificant at best and non-existent at worst.
It could be argued this isn't a problem for artists wanting to make it in grime given that music is made so diasporically these days, but grime has always been rooted in specific geographical regions and physical interaction, whether that's sets on radio or clashes at raves. Thus a sense of place not only gives grime music its character and authenticity, but also creates an environment in which grime MCs can improve, gain respect from their peers and grow their fanbase. When a region is lacking a healthy scene and places where MCs can meet, compete and perform, avenues of increasing one's visibility are diminished.
And although regional grime has many more fans than ever before, with even the Guardian acknowledging the cultural impact of the Blackpool grime phenomenon in an article this May, there is still scant regional grime scenes to rival any of the boroughs in London or Birmingham. Rather, more common are singular regional grime artists or acts coming through from places such as Nottingham, Sheffield, Glasgow and Cardiff. This is precisely why a scheme such as Grime Beyond Borders is so important for the North, as without a solid infrastructure, support networks and opportunities, artists from outside the capital will keep falling short of mainstream success.
Fahey is positive this is about to change, however. "There's other people (aside from Bugzy Malone) who are bubbling," he says. "There's people who are above the surface and just kind of ready to break through. Slay is one of those artists." As a teenager, Slay was a member of the Mayhem Crew, which was active during grime's 'first wave', and it was during an EA Sports competition that Mayhem were taking part in and Fahey was judging that the two first met. After a period of time away from the scene, 26 year-old Slay told Fahey he was hungry to get back into music, which made him the perfect candidate for reaping the most benefits from the programme.
With Slay in mind, Fahey began discussing the idea for the project with Smack's manager Tony Black, who aside from managing Smack has worked with British grime acts Ghetts, Kurupt FM and Barely Legal. "So we had a conversation about doing an exchange with Smack and Slay just to see how much they have in common," Fahey tells me. "Just to see what their differences are, if their aspirations are the same, if they can connect and support each other's work in a way and just to see what comes out."
Although Fahey was an MC in the 1990s and 2000s, he doesn't cite his past experience as a musician as relevant to this project. "When grime was being born I as an artist was already enjoying success and doing dumb shit in clubs," he explains. "I wasn't anywhere near those pirate radio stations that harboured grime as a culture and I wasn't in those little early on raves. I'm one of the people that observed grime be born rather than participate in it."
However, it was Fahey's business Thirty Pound Gentleman that made the idea a reality, thanks to its unique operation. Although the first installment of Grime Beyond Borders was supported by the Arts Council England and the British Council and the second is a collaboration with The Netherland's Welcome to the Village festival, the programme is for the most part, divorced from the way such institutions operate. "This is very organic," Fahey says. "This is the kind of work that an organisation would probably tell a funder somewhere that they need hundreds of thousands of pounds for. Grime Beyond Borders is being done purely on passion and relationships that TPG has with people in other countries." Indeed, although there are mentoring schemes within grime culture, with Skepta's Levi's community project a high profile example, there is usually a corporate or arts organisation sponsor.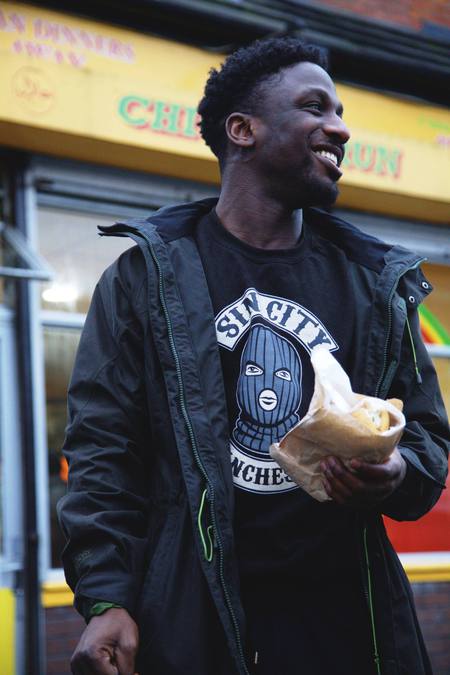 Slay (image: Karl John)
We ask Fahey what the exchange looks like in practice. "There should be a studio session, a live performance and a collaborative brand new piece of work on both sides," he says. "But some of the other aims and objectives are definitely about getting grime MCs from the UK and at the moment specifically Manchester to see more of the world and to understand the impact of their own talent and their own culture on other people in far away places, and go and explore those places too," he adds.
One word that keeps coming up as we discuss the project is 'integrity' – a word so much associated with grime culture that it is the name of JME's 2015 album. "It's not like I'm saying charities and NGOs don't have integrity, but all of the focus here is on the artists and making the work happen, not core cost recovery and keeping other people in jobs," Fahey explains. "A lot of cultural institutions produce work not because it's work they're particularly interested in or care about but because there's funding available to do so, and TPG doesn't operate like that. It's for the culture, rather than it just being something we could do because we could get some funding to do it." 
There are similarities to be found between what Fahey is doing and what Manchester's Factory Records founder Tony Wilson did. Inspired by continental European philosophy and art, such as the Situationist International movement, Wilson's work can be seen as being anti-London and anti-American. While it's debatable whether his career can be described as successful, given that Factory Records went bankrupt, he certainly tried to make the North an autonomous region of equal cultural impact, and his method in doing so was by bypassing London and forging links with continental Europe. Fahey, in his bypassing of the south with Grime Beyond Borders is certainly signaling a similar ambition.
Such an assumption is further strengthened by the fact Grime Beyond Borders, the 30-minute documentary about the initiative, directed by Mauro Camal and shot during the first exchange, features an anti-Brexit narrative arc. "Brexit is one of the things that made me choose [Dutch city] Leeuwarden as the partner [for the second Grime Beyond Borders]," Fahey tells me. "Leeuwarden is the 2018 European Capital of Culture, so it was important for me to do that, for there to be a truly European aspect, and European in the political sense, not in the geographical sense. It's a bit of a middle finger with Brexit in mind."
The MCs and the exchange
"The first time I went over there I was kind of a bit nervous as I was going on my own and I didn't know what to expect," recounts Slay of his first trip to Prague when we catch up over the phone in early June. "It was my first time in Eastern Europe and even with that Danny likes to throw me in the deep end," he laughs. "I sat in the plane thinking, 'What the hell?' I've not travelled a lot anyway, I've only been to Zante and Tunisia but as soon as I got off the plane I didn't feel funny or weird."
I mention how different Slay seems from when we first talked about the exchange back in November. Then, the Trafford-hailing MC was getting ready for a performance at a Levelz Warehouse Project takeover and he was noticeably less assured about his work. Shooting the video for his comeback ManLike that night, he was anxious not enough people would turn up to the radio station where he was filming. "The [Grime Beyond Borders] experience gave me a different confidence," he agrees. "I can go anywhere and be seen to be on the same level as I am in Manchester. I can go anywhere and shut it down."
The success of the first exchange is also largely due to how well the two MCs got on. "Some artists you meet and they're kind of up themselves but as soon as I got there it was cool and it felt normal," Slay says of first meeting Smack. The Czech artist describes his home area of Prague 10 as "the end of the town," in the Grime Beyond Borders documentary, which aligns him with Slay as an outsider.
"The way we think, mindset, is very alike," Slay confirms in the documentary. "Me being from Manchester and grime being from another place, knowing that you have to work and be around for a long time, when sometimes it might have been easier to say, you know what, forget it, but just going through and doing it, in that sense, we've got a lot in common."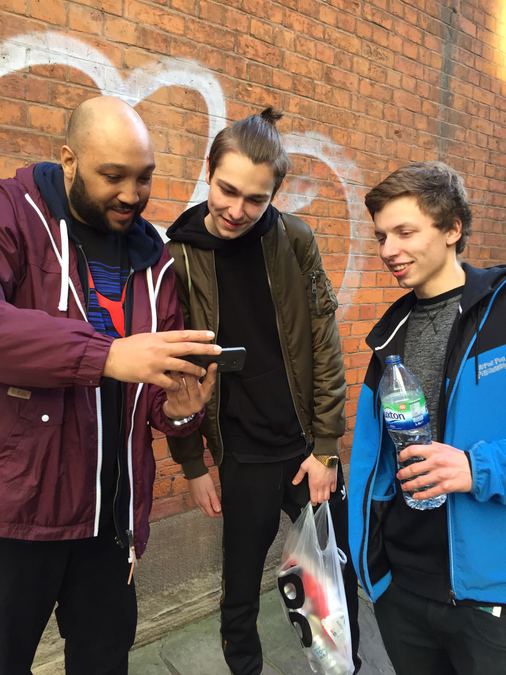 Danny 'Falz' Fahey speaks to Czech grime fans lost in the city centre by Mauro Camal
"I got involved with grime culture thanks to my father," Smack recounts in the film. "He was giving me CDs, all different genres, since I was a little kid, and a lot of that was before grime, a lot of that was what grime was made of, so some dub music, some Jamaican reggae, drum 'n' bass as well. Of course I was listening to rap so that was the connection as well and then he gave me a So Solid Crew CD – They Don't Know. I was listening to it all the time, all day every day because there was nothing like it."
Smack first started releasing mixtapes while part of a collective called the Icecream Boyz, before setting up his own record label Archetyp 51 and launching himself as a solo grime artist. Like UK grime MCs, he writes bars that are reflective of his environment, peppering his lyrics with some literal translations of Wiley and Dizzee lines, and although there are other Czech MCs doing grime, he is undoubtedly the country's pioneer and currently its biggest talent.
As soon as Slay landed in Prague, the two MCs made their way to the city's Radio 1 for a set. "We went back to back and even though we were speaking different languages, I knew he wasn't shit – he had the right energy. And then a few days after that I went to the studio and there was no awkwardness – we did it pretty quickly," Slay says.
"Slay gave to the experience as much as he gained from it," sums up Fahey, "and that's one of the important things that's already bore fruit for Slay. He gave so much to the programme, just in terms of the artist that he is, that him and Smack have a genuine friendship and a genuine business relationship where they're already featuring on each other's new projects, he's already returned to Prague to do a gig at the Cross Club."
"The people really appreciate the music out there, whereas in the UK, if you're not a big name or you're not known it's not always like that," Slay tells me, recounting his two trips. "But if you go away from your hometown people are a lot more appreciative of who you are and what you're doing." Smack experienced a similarly positive reaction in Manchester. In addition, as the film shows, several of his Czech expat fans travelled from across the UK to see the artist perform in Manchester.
According to Fahey these kinds of live performances are vital for musicians at the early stages of their careers because for some, they really are the only way to get noticed. "There are so many challenges for artists now," he says. "Artists can release some music or a video and they give it to the internet which is a fucking graveyard – it just gets lost in a sea of other dogshit, whether it's good or bad. That's a new challenge for artists that are DIY in the business."
23 year-old Sangy, who's taking part in the second Grime Beyond Borders, has more faith in the internet as a tool for building a fanbase, but believes Manchester-based channels just can't rival the big and often London-centric platforms that host grime artists. "We haven't got an SBTV or a Linkup TV or a JDZ or a Grime Report or none of that here yet," he says when we meet in Manchester a few weeks before his own exchange.
The Chorlton-based MC was chosen after a deliberation between Fahey and Slay. "We said, let's get people to nominate and send names through," Fahey explains. "We had a long conversation about it and it was based on a lot of things, how active he is, how much new work he's got out, what people are feeling about him and we just decided to go with Sangy for this one."
Sangy had already known Fahey for two years by this point. "Every time I'd see him I'd say I wanna do something with you as he's got a lot of things he could offer me that I could learn," the MC explains. "Not that I wanna link up with him because I think he's gonna sort me out and make me famous, but because he's a good guy and I like the kind of vibe he brings. When he says something I wanna listen to what he's got to say."
The MC will be collaborating with Dutch artist Dona B for his exchange. "For me listening to vocal-based music I have to understand what they say, so I can't put too much judgment on it, but it definitely sounds good," he says of his exchange partner. "And it will be interesting to meet up with people who are doing a similar type of thing to what people are doing here and see their interpretation of the culture," he adds.
For him, another reason why such exchanges are important is because he sees sloppiness in how foreign grime scenes are sometimes reported here in the UK. "You see them pages like Unilad putting up Australian grime going 'look at this!' and these guys are dogshit – you've literally just put them up because they're from another country and doing grime. I think if you're going to give it coverage, then you should only show the best."
Our work is never done
While the #Grime4Corbyn movement is only a few months in the past, grime artists are already making their voices heard on a new cause of social unrest, with several speaking out about the government's failure to adequately respond to the Grenfell Tower fire. Of course, grime is not the first musical genre to highlight power relations and social inequality, but its unique DIY ethos, ability to capture the collective consciousness and mobilise people to action certainly gives hope that the political status quo is on shaky ground – that certain demographics can no longer be ignored.
Fahey links the growth of grime and indeed MC culture as a whole, to recent political changes across the world: "Politics is shifting to the right and whenever that happens, whenever there's unrest, artists always find their feet, whether they're wordsmiths or painters or graffiti artists, as people seek out responders to the condition. But there is nobody more perfectly placed to respond to the condition of people than MCs."
It seems certain then, that grime will continue to grow as a culture that holds the political establishment to account, representing the feelings and opinions of ethnic minority groups and young people. But what a scheme such as Grime Beyond Borders facilitates is a more meaningful appreciation of grime, both for musicians and fans. Its ethos is aligned with that propagated by American philosopher Nelson Goodman, who argues that aesthetic experience is an epistemological experience, that our enjoyment of something increases with how much we know about it.
Of course, the internet has democratised knowledge, and you can learn a lot about grime through watching it online. But there is a knowledge that cannot be learned through a screen. Some knowledge is embodied, felt in real space and time. By the virtues of its DNA, grime thrives in this kind of real, felt experience. And while it is perhaps somewhat of a paradox to say a genre such as grime, whose history is so much rooted in specific place, will benefit from being taken out of its original context, now that it is appreciated and imitated all over the world, it feels right that those who are its original creators enjoy some of the fruits of that labour.
In Fahey's own career, performing abroad was a pivotal moment. "As a young man, until I had the opportunity to travel and I realised how small the world is, but in a weird way also how fucking big it is, I didn't truly realise my place in it and what I was capable of," he says. With Grime Beyond Borders, he's not only helping Manchester MCs understand what they are capable of, but by sending them overseas, he's also helping fans outside the UK get a more authentic understanding of grime. Such an endeavor certainly is "for the culture".
---
Grime Beyond Borders screens at HOME, Manchester, 22 Aug, with an introduction from Danny 'Falz' Fahey and is followed by a Q&A with Slay; for tickets and more information, head to homemcr.org/film/grime-beyond-borders