Sake Cocktails to Try Making at Home
You'll have no doubt tried sipping sake neat, but Japan's iconic national drink also fares well in mixology – and to prove it, we've asked Manchester ramen bar Shoryu pick out some cocktails you can try at home
What is sake?
Put simply, sake is a rice wine that's made from fermented rice and water. By turning starch into sugars that are then fermented into alcohol (rather than fermenting natural sugars in grapes, as you would with wine) the brewing process of sake is actually not dissimilar to that of beer – although its ABV, which usually hovers around 15%, means it's drunk like wine.
As Japan's national drink, sake is deeply rooted in the country's history and culture, and over the centuries has become one of the world's most iconic drinks. Often served at celebratory events like weddings and launch parties with its very own Kagami biraki ceremony – where a sake barrel is broken open by a mallet before being served out to guests – sake has had as much influence on culture and society as they've had on sake. Traditionally, for example, you'd never pour your own sake but pour it for others in your party, showing how the revered drink extends as a mark of respect to others.
Sake and mixology
Most commonly known as a drink that's sipped neat, sake can also be used as a unique ingredient in mixology thanks to its delicate, fragrant properties that pair well with most spirits. Much like wine, there's an entire spectrum of styles and flavours to play with, making it a versatile tool when making cocktails 
Sake cocktails to try at home
We asked Manchester ramen bar Shoryu to suggest a few sake-based cocktails you can try making for yourself at home, from a creamy matcha-infused number to a Japanese twist on a well-known classic... And they're not anywhere near as hard to make as you might think!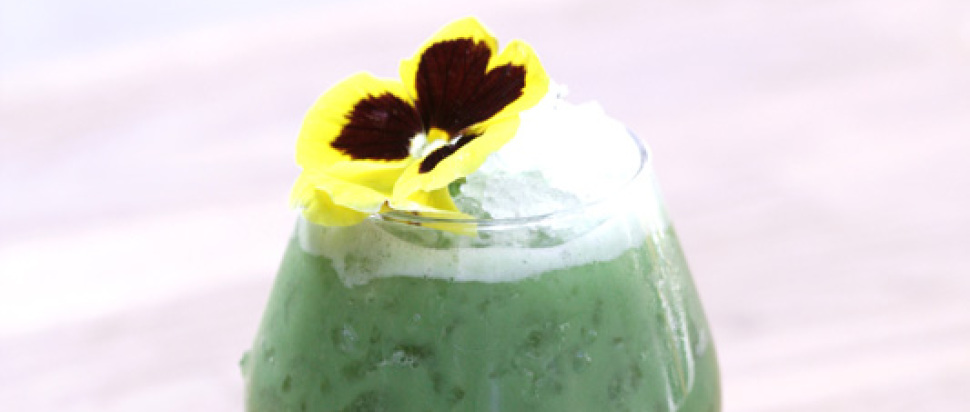 Matcha Cool Down
As well as sake, matcha's another really interesting flavour that's stepping into the limelight of mixology. Well worth playing aroud with this while you're giving sake a go!
Ingredients: 30ml Malibu, 40ml Namazake, 10ml white cocoa liqueur, 20ml soy milk, 1 full teaspoon of matcha power
Method: Add the Malibu, Namazake, white cocoa liqueur, soy milk and matcha powder to a cocktail shaker. Shake hard, with ice. Fill up a glass with crushed ice and pour the cocktail over the ice through a strainer. Add further ice if required and garnish with a spring flower.
Whisky no Kaze
This cocktail embraces the fragrant, floral attributes of sake, with flavours of orange, mint and vanilla balancing out the booze.
Ingredients: 50ml Namazake, 25ml green Chartreuse, 20ml Hakushu 12 year old Whisky, 15ml orange juice, 5ml vanilla syrup, 6 fresh mint leaves, 3 drops Angostura orange bitters, 1 fresh squeezed lime
Method: Muddle the mint leaves with the green Chartreuse in a mixing glass. Add the rest of the ingredients, except the lime. Shake hard over ice cubes and double strain into a chilled martini glass. Garnish with a mint wisp and the orange peel, and squeeze the fresh lime into it before serving.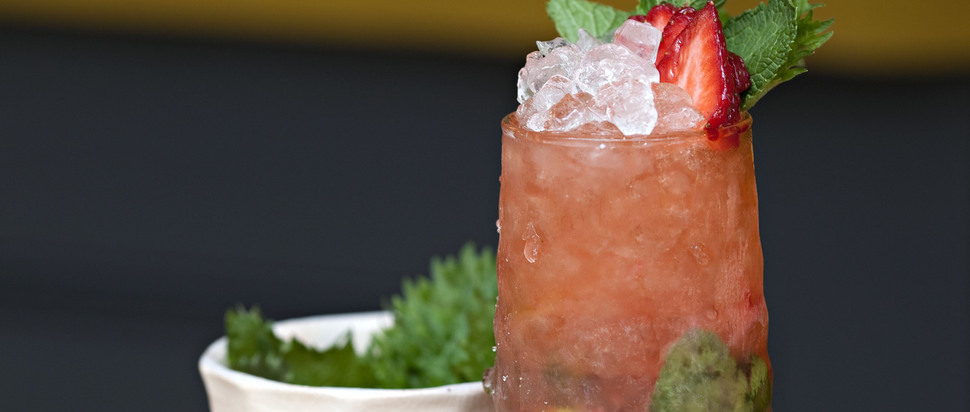 Shoryu Mojito
A Far Eastern twist on an old Cuban classic, Shoryu's version of the mojito add yuzu flavours for extra umami.
Ingredients: 40ml Bacardi white rum, 30ml yuzu umeshu, 30ml homemade yuzu syrup, 6 lime wedges, 2 strawberries, mint leaves
Method: Muddle one strawberry with yuzu syrup, lime and add the mint. Add crushed ice, Bacardi, yuzu umeshu, mix well, and garnish with mint and strawberry fan.
With food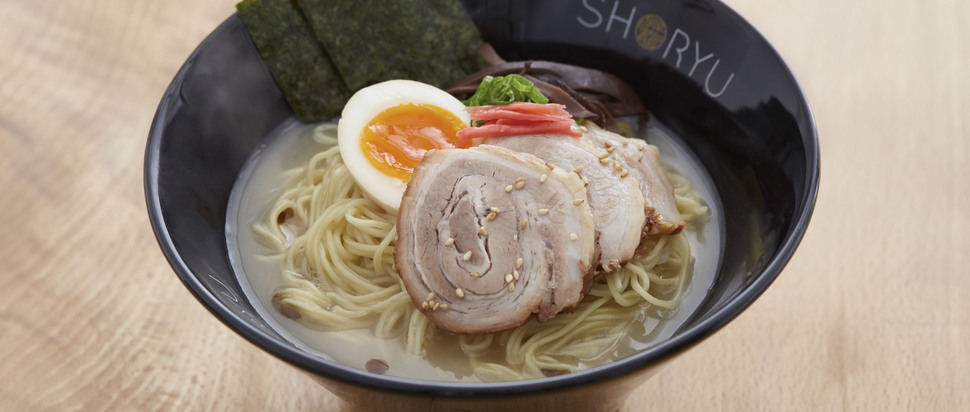 As with wine, thanks to the diversity of sake it also pairs well with food, whether to cut through the rich broth of ramen, or to be sipped alongside salty edamame beans and crispy vegetable tempura as a refreshing start to a meal. 
Why not try Shoryu's Bun Mondays, where every Monday you can get 2-4-1 buns when you buy any ramen? Or you can go for the lunchtime set menu (available daily 12-3pm), where you can choose from a chicken karaage/halloumi and shimeji mushrooms Shoryu bun or three gyoza to start, followed by Shoryu Ganso Tonkotsu/White Natural ramen – yours for a respectable £14. 
And if you're a student? Ride that discount wave with 10% off the total bill (cannot be used in conjunction with any other offer including happy hour, set menu, Bun Monday) every Monday-Thursday.