Junkyard Golf: Manchester's non-guilty pleasure
Before you get all 'bloody hipsters' about it, turns out Manchester city centre's indoor golf course is a lot of disorderly fun – and even managed to turn our nonplussed reporter into a ruthless competitor.
Number of courses? Two: Polluted paradise-themed Pablo and club-themed Freida.
Number of holes in total? 18, all varying in difficulty.
Number of fucks you'll give about winning? Waaay more than you'd expect.
Combining crazy golf with eats, beats and booze, Junkyard Golf Club takes the classic seaside resort pastime and turns it well and truly on its head. Here it's less about twee windmills and carefully trimmed AstroTurf and more about oddball charity shop junk sourced over the years and, er, life-size fibreglass cows.
Junkyard Golf: What's it like? 
The set-up is undeniably bonkers, and because of this, the experience is stripped of the 'guilty pleasure' tag that's usually associated with crazy golf. It's no longer a naff family-friendly activity that you'll only revel in jokingly – because, it seems, Junkyard Golf are already in on the joke.
The deluded dreamworld of the Pablo course is played out through a graffitied tiki forest bathroom, a bear-wrestling cage and an oil-soaked ocean, while over on Freida you'll find an acid house rave room, nods to Alan Partridge, a pole-dancing pig and even a slide – which both you and your golf ball can whizz down.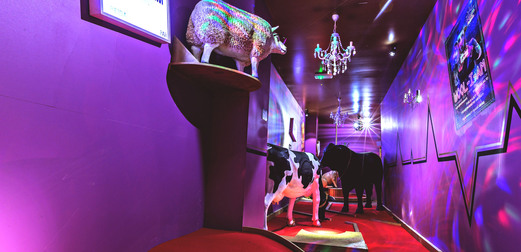 [The Wool-I-Am golf course.]
How did we do? 
Starting off with the Pablo course, armed with a score sheet, pencil and a plastic cup of white wine (judge me not), my first shot led to a hole in one. Turns out that's all it takes for a notoriously non-competitive competitor to get a slight crazed look in their eye, suddenly alive with the promise that they can actually win this shit!
I didn't, as the rest of my stint on the course was something of a mangled mess – including at one point almost thwacking the ball into the bogs and, at another, losing my ball altogether. But Freida proved to be my gal. Despite an encounter with a particularly pesky sheep in a hat and sunglasses at the Wool-I-Am hole, it was on this course that I finally found victory. And it felt good. A warm, fuzzy feeling… bolstering the warm, fuzzy feeling that white wine in a plastic cup had started.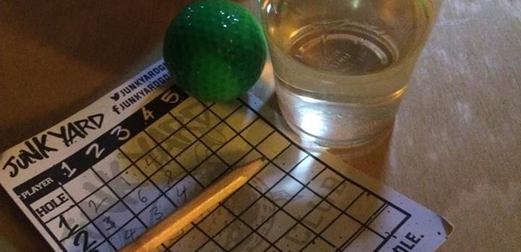 What's to drink? 
Onto the booze, which ditches the random, scatterbrain approach of the rest of the venue in favour of something a great deal more considered, with another batch of guilty-pleasures-you-shouldn't-feel-guilty-about like cherry Lambrini (remember that guy from getting pissed in a park after school? 'Cause I definitely do), Jägerbombs and retro favourite Hooch.
Along with Kozel on tap, beer lovers can also revel in a surprisingly strong selection of craft cans like Brooklyn, Sierra Nevada and Piston Head, and you'll also find Hobo and Rekorderlig ciders in the fridges.
They're also knocking out playful cocktails, with a full menu of 'Party Drinks' like Fairway to Heaven (Belenkaya vodka, cherry Lambrini, Vimto and lemon), Dude Where's My Par? (El Jimador tequila, passionfruit, lime and Lilt) and Who's Your Caddy? (Portobello Road gin, strawberry, lemon and cranberry). You can also cool down with boozy slushies like frozen margarita and The Golf of Mexico – El Jimador tequila, orange curacao and lime – all coming in at £7.50.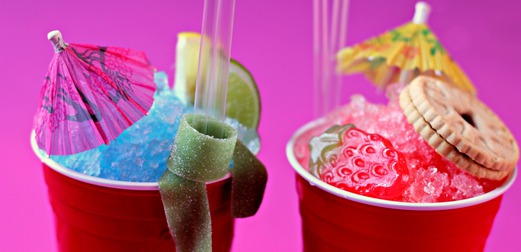 What's to eat? 
The menu comes courtesy of Eat New York, who serve up American-inspired junk food including towering loaded bagels and sauced-up-to-the-max meatball subs. We were recommended to try out their signature salt beef bagel, which comes piled high with hot salt beef, pickle slaw, rocket and French's mustard, as well as the vegetarian bagel with mozzarella, tomato, red onion, rocket and pesto dressing, both proving that Eat New York are fairly unsurpassed on the bagel scene.
The unexpected hero for me, though, were the loaded nachos, where all the usual suspects of salsa, jalapeños and a truckload of melted cheese come augmented by generous shreds of salt beef. A huge portion that works well for two sharing as a side or for one hungry person, it'll only cost you a fiver.
The verdict? 
While organised fun never seems a tempting proposal for a drizzly Tuesday evening after work, there's something gloriously anarchic and surreal about Junkyard Golf. The fun feels far from organised – disorderly fun's probably closer to the truth.
The drinks run freely and getting pissed while you putt is highly endorsed, with two mid-course bars poised to keep your thirst at bay. Junkyard Golf? Play ya cards right and it'll be more like drunkyard golf – which, it turns out, is one tempting package. 
And as we inch ever closer to the biggest night of the year, this New Year's Eve you can go all-out – and a little left-field – as Junkyard Golf Club throw their very own NYE Glows Tribal UV bash. You'll be able to live it up with Piggy Azelia and Wool I Am with a round of golf, boozy treats, dance beats and, no doubt, a fair few rounds of Jägerbombs. Simply book as normal, and your ticket will include entry to the ensuing shenanigans.
---
Junkyard Golf Club
3 Piccadilly Place, Manchester
Mon-Thu 4pm-midnight, Fri & Sat 12pm-midnight, Sun 12pm-10pm 
@junkyardgolf
junkyardgolfclub.co.uk