Stanley Tucci on Alberto Giacometti, Michael Bay and creativity
When he's not stealing scenes as Hollywood's finest character actor, Stanley Tucci writes and directs comic studies about creative people. His latest is a love letter to Swiss artist Alberto Giacometti and his struggle to complete his final portrait
Stanley Tucci loves his job. But then, of course, if you've seen any of his films, you don't need to be told that; his joy radiates off the screen. He's been working steadily in the movie business for three decades. His first credited role was in John Huston's Prizzi's Honor, in 1985, although Tucci claims "I was only a glorified extra". But this is an actor who has thrived while appearing as the sixth or seventh name down the bill, and from these supporting positions he invariably ends up stealing the movie from his more famous co-stars.
Throughout the 90s he'd pop up in all sorts – a gangster in Bill Murray's Quick Change, an assassin in The Pelican Brief, one of the many Woody Allen stand-ins in Deconstructing Harry – but it's his performances this century that have cemented his place as one of Hollywood's favourite character actors. He's played Meryl Streep's acid-tongued right-hand man in The Devil Wears Prada and her charming husband in Julia & Julia. He was hilarious as Emma Stone's goofball dad in Easy A, an effervescent bright spot in the dour Hunger Games series as a flamboyant game show host, and a salt-of-the-earth Boston lawyer taking on the Catholic church in Spotlight. Tucci is so good, he won the best supporting acting Oscar while playing a despicable character (a ponytailed child killer) in an awful film (Peter Jackson's misguided The Lovely Bones).
When we meet Tucci he's in a buoyant mood, fresh from a riotous Q&A at the Edinburgh Film Festival where he had the audience in stitches with tales of thespian hijinks, including the story of a farting game he would play with Billy Connolly, Alfred Molina and Isabella Rossellini on the set of 1998 farce The Impostors. "I do like those Q&A things, they're the best," beams the 56-year-old New Yorker. "To me, that's the perfect way to promote a film. You get a whole bunch of people in a room, everybody talks, asks you a few questions; it's fun."
We're speaking to Tucci the week that Michael Bay's Transformers: The Last Knight, in which he plays Merlin – we're not sure how the toy franchise meshes with the Arthurian legend, but roll with it – hits the big screen. The film he's in Edinburgh to promote, however, does not contain any robot battles or wizards. In fact, it doesn't even contain Tucci. He's behind the camera as writer-director of Final Portrait, his love letter to Swiss artist Alberto Giacometti (played by Geoffrey Rush).
---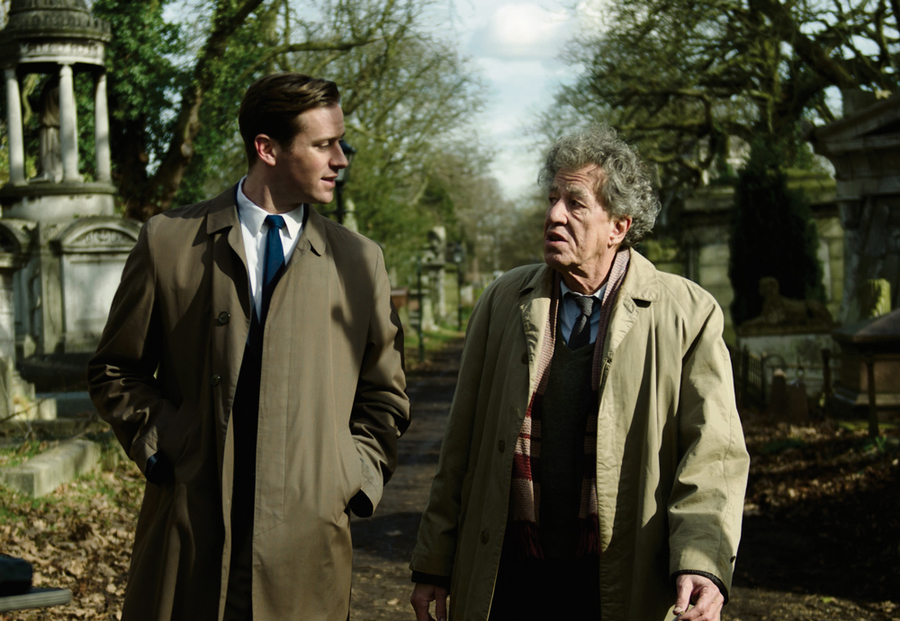 Geoffrey Rush and Armie Hammer in Final Portrait
---
The film focuses in on Giacometti's painting of American writer James Lord (played by Armie Hammer) in his Paris atelier in 1964. Initially, Giacometti promised Lord that it would take him an afternoon to immortalise him. Weeks and several cancelled flights home later and Lord was still returning to the studio to sit for the self-conscious artist as he continued to paint over and rework the picture. Lord turned the Beckettian ordeal into elegant memoir A Giacometti Portrait, still considered a masterful study of the artistic process five decades later.
"I love Giacometti and I love Lord's book," says Tucci when we ask what drew him to this particular episode in the artist's colourful life. "Lord wrote really beautifully about Giacometti, and Giacometti was so articulate about his process. I carried the book around with me forever and I thought, 'If I can make a movie out of this someday, I will.' And so I did."
While the artist's portraiture is striking, it's his sculptures that are truly jaw-dropping. Two years before he painted Lord, Giacometti's surreal, spindly creations, which range from artworks a few inches high to several metres tall, won him worldwide acclaim and the grand prize for sculpture at the Venice Biennale. When we speak to Tucci, he's fresh from seeing those sculptures in the flesh, having visited Tate Modern's major retrospective of Giacometti a couple of days earlier. "They knock you out," he says of Giacometti's sculptures. "Seeing them in the flesh you just see him trying to continue digging away to find the truth, to realise his vision, and that's really what it's all about. Whether you're a painter or a musician or an actor, it doesn't matter."
Tucci attributes his love for art to his father. "He was an art teacher, and used to paint and sculpt and do all that stuff at home, so he was greatly influential." His father's ardor for art even dragged a young Tucci and his family to Florence while he spent a sabbatical year studying bronze casting. "He was always sketching or doing something. He taught me how to do all sorts of different things, pottery or jewellery making or silk screen or whatever. He made art really exciting."
Final Portrait is Tucci's fourth film as director, and within this small body of work there's a theme emerging. Debut effort Big Night, which he co-directed with friend and fellow actor Campbell Scott, and which is still his finest film so far, is concerned with a perfectionist chef. Screwball farce The Impostors, his second film, focuses on two actors, while his third directing effort, Joe Gould's Secret, is a charming portrait of bohemian author Joe Gould based on the writing of New Yorker journalist Joe Mitchell. In each case, the focus is on people with an urge to create, and Final Portrait follows this pattern
"I know, I know," laughs Tucci. "You found me out. I keep making the same movie all the time. They all have a similar theme, which is, 'Why do you do what you do?' They're about identity, they are about creativity and about where that person fits into the whole of society. It's all the same movie."
Final Portrait is perhaps the least successful of Tucci's studies in creativity, but it's not without its visual invention. Almost all of the film takes place in Giacometti's messy Paris studio, which has been lovingly recreated by the film's art department, and Tucci and his cinematographer Danny Cohen make great use of the space, particularly in the long opening shot that introduces us to Giacometti and his place of work.
"That opening is kind of a joke," says Tucci, "because Lord goes, Oh, it's going to take an afternoon and then the door opens and it's like a tomb, a tomb of creativity." For Tucci, the space in which the action takes place is as important as the performances. "The space people create between each other is a conscious thing. In movies, we never see this space, but this [gesturing to the space between us] tells the story much more than a close-up of you or a close-up of me. This tells the story. It's something that I work towards in every film. I'm getting better at it, I think."
Over his three decade acting career, Tucci has had the opportunity to observe first-hand the working styles of some of the finest directors in the business. We ask what he's learned along the way.
"Every director is different," he says. "You have someone like Steven Spielberg [Tucci's director in The Terminal], who thinks in pure cinema and to watch him put together shots is pretty impressive. And then you've Tom McCarthy [Tucci's director on Spotlight], who comes more from where I come from, which is the theatre and independent filmmaking, and Tom is in some way much more like I am as a director."
A filmmaker from whom we assume Tucci has borrowed little is Michael Bay, who he's worked for twice in the Transformers films, playing two different characters. But to our surprise, Tucci is as enthusiastic about his work with Bay as the other directors he mentions. "Oh, Michael's completely manic and frantic, and what's so great about working with him is that he's totally spontaneous, which can drive the crew crazy because they never know what they're doing from one day to the next, but as an actor it's actually really fun. He'll throw away the script and just say, 'make something up.' He loves actors, and they love him."
He does admit there are a couple of other reasons he likes to take roles in huge blockbusters like Transformers. "Well number one you make money," he laughs. "That's nice. But there's a second reason and it's even more important: more people are seeing what you do, and hopefully that'll make them want to go see the smaller movie." While we're not sure the overlap between Transformers and Giacometti fans is significant, we're happy to see Tucci mixing it up.
---
Final Portrait is released 18 Aug by Vertigo
Giacometti runs at Tate Modern until 10 Sep