Electric Fields 2017: The Review
Kate Tempest, Dizzee Rascal, Anna Meredith and Frightened Rabbit are the leading lights at the fourth edition of Electric Fields in Dumfries and Galloway.
Electric Fields squeeze a lot of good music into two days and a handful of stages; as you drive over the stone bridge at Drumlanrig Castle, it's easy to wonder how it's all going to fit into this dinky site, one that makes T in the Park look Glasto-sized. As it turns out, EF make great use of the space. The spoken word Neu Reekie stage doubles up as Sneaky Pete's dance residency as the sun goes down. The Tenement TV Discover stage is showcasing some of the most ferociously received acts of the weekend, and the tent certainly feels cosy at points. Just a stone's throw away is the main stage, surrounded by indie food trucks and beer shacks; behind us is the Big Pink, the smallest, and full of bright newcomers.
Somehow there's little noise bleed, and it remains a family festival at heart – kids bob in and out of crowds wearing neon ear protectors while mums and dads soak up the (surprising) sun. It works. Electric Fields have fostered a tight-knit community feel that's only grown stronger since the first festival in 2014, but the music remains the focus. Since expanding to two days, they've hosted a truly eclectic range of acts, from Scottish folk heroes, to indie gems, to Dizzee Rascal, who defies classification.
First up for us on Friday was Anna Meredith's intricate works. Mined from her SAY Award-winning album Varmints, her set is built on shifting time signatures, stunning, sweaty climaxes and off-kilter grooves. Her background as a classical composer shines through, but her music is anything but straight-laced. Meredith's sound is a testament to the pure joy of tinkering with compositions. All of her bandmates are forced to bob their heads at different times, as tuba, cellos, guitar, xylophone and drums wrap around each other. In the jam-packed Tenement tent, it's hard to make out every element, but that doesn't stop the band from getting the audience on board. "Let's just play bangers!" she shouts at one point, gripping a drum stick in one hand and a clarinet in the other.
Car Seat Headrest pack the Tenement to its limits later, where Will Toledo's anxious lyricism clearly connects with the crowd. They open with a stretched version of Vincent, where Toledo's deadpan vocal evokes his clear fandom of David Byrne and Julian Casablancas. It's stinging, ramshackle indie rock at its purest, and they swerve directly into Fill in the Blank. Toledo's lo-fi Bandcamp days have given him the ability to write a highly emotional cut that's messy and immediate in equal measure. The volume is high. Tinnitus static swallows some detail, but none of the magic. Those smart enough to pack earplugs (not this reviewer) would be treated to great soloing and impressive interplay. The crowd is at its wildest for Drunk Drivers/Killer Whales, a song that solidifies its instant-classic status with each performance. Few can draw teenage depression and anxiety with such accuracy and humour, but even fewer can make a killer rock song in the process. 
Over at Sneaky Pete's, Jackmaster is mixing disco throwbacks, queer anthems and crowdpleasers. He covers all three when he drops New Order's Blue Monday, teasing the audience for minutes before dropping that synth line. It encapsulates the set, as he milks us for all the energy we have, before reaching a cathartic headrush. Temples offer a much-needed cooldown at Tenement, with their slinky 60's psych and funk. Their take on the genre could be passed off as Tame Impala-lite to any wandering by, but the band's flashy soundplay could hardly be described as throwaway.
Frightened Rabbit are the official headliners of the night, though they look bewildered to be in that position. "We're not the kind of band that usually headlines a festival", Scott Hutchison half-jokes, wincing from behind the mic. Their hit-rate says otherwise. The Woodpile, Fast Blood, Head Rolls Off and Old Old Fashioned are all barn-burning, heart-warming epics. The band perfected witty alt-rock miserablism years ago; us Scots are particularly good at that kind of song, mixing dreary lyrics with belter choruses, and Frightened Rabbit manage to remain exciting performers while doing it.
Some drift away to get close for Kate Tempest before the set wraps up, and they can't be blamed. By this point, it's a Scottish rite of passage to have seen Frightened Rabbit live, which maybe explains Hutchison's paranoia. The band are a staple of our scene – if you've clutched a copy of The Skinny in your hands, you've probably sung along to Keep Yourself Warm with Tennents on your breath. Their set feels homely because of it; that Electric Fields understand what makes the local music scene tick while offering an assortment of new experiences speaks to the festival's clear sense of identity. 
Spoken word artist and musician Kate Tempest gives by far the most urgent and nourishing set of the weekend, performing her Mercury-nominated album Let Them Eat Chaos front to back. It's an engaging live piece; on the opening monologue, Picture a Vacuum, she pleads with the audience to see the world: 'Follow that light with your tired eyes / I know it's been a long day, but look'. Tempest has a special talent for drawing an audience in with careful inflections, and warming words. 
Even when her words grow sour on the vitriolic Europe is Lost, there's a burning human spirit that rips through everything. The story of Esther the carer knocking back a beer at 4.18am after a double shift hits particularly hard, and makes for a stunning juxtaposition with the growling, brittle instrumental that eventually swallows the story. Those close to the stage will see the microphone shaking in Tempest's hands as she performs the angriest pieces, and the toll the album takes on her is clear as she backs off into the shadows as it draws to an end. In a year that seems to be growing bleaker with each headline, Tempest's compassion feels like relief. She's an essential voice whose power is felt most in person.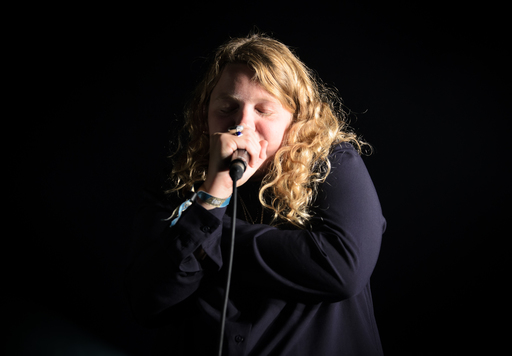 Kate Tempest at Electric Fields. Photo: Ian Schofield
If anything typifies the highlights of Saturday, it's unadulterated fun. Glass Animals are a prime example, their bombastic set shaping indie, dance and hip-hop into unique pop songs. They're a goofy band – anyone who's seen Dave Bayley dancing could tell you that – but their quality and craft is undeniable, even for the many who'll find their faux-deep lyrics a bit obnoxious. They walk on to Premade Sandwiches, a gurgled rap about how vapid modern life is, or something. No one is coming to Glass Animals for existentialism, though many are here for the tunes. Season 2 Episode 3 and Youth stand out, with earworm choruses and buoyant percussion.  The most cultish fans throw around pineapples, a shoutout to an aside on Pork Soda. That level of dedication is hard to scoff at when you find yourself reaching out to touch Bayley as he moves through the crowd.
Lord of the Isles became a must-see thanks to this year's Parabolas of Neon, a fizzing ambient techno album released via Edinburgh's Firecracker label. That label has been churning out gems, and Lord of the Isles deserves his place among them. His Saturday night turn in the Sneaky Pete's tent leans on techno more than ambient, for a hard-nosed collection of industrial thumpers. He's still loading his tracks with detail and colour, but once again, the fun of a good beat does more than words can say.
If you were wondering who's having the MOST fun at Electric Fields, it's Dizzee Rascal. He opens with a victory lap of rapid, breathless highlights from his new album Raskit. That album looks at his role within grime, a genre and scene he helped cultivate before escaping to the awkward land of dance-pop. It's a sturdy way to open, and before you know it, he's tearing through classics. Stop Dat is barked with all the grit it deserves. I Luv U is given a minute, tops. Jus' a Rascal is belted out soon after. Fix Up Look Sharp, his clattering opus, is given all the time it deserves. 
Before you know it, we too are in awkward dance-pop land. The tinny toy drum intro of Bassline Junkie fades in ominously. He's not, is he? OH YES HE IS. For the rest of the set, Dizzee gives us the cheesiest, brashest songs in his catalogue. Given the venom with which they're delivered, it totally works. To see other early classics passed over would be sacrilegious if Dizzee's set wasn't so damn fun.
The buzzsaw wobble of Bassline Junkie soon gives way to the farty bounce of Dance Wiv Me, where he's beaming through cornball lines like 'I wanna take you there / you bought new shoes and you did up your hair'. He even drops the gloriously awkward You've Got the Dirtee Love, the Brit Awards collaboration with Florence Welch that features his clumsiest bars. He's still beaming. We finish, of course, with Bonkers, a song whose bleaty beat has aged like decade-old yogurt. It's wonderful. The crowd bounces through it all, and Dizzee's still beaming. 
Electric Fields is a festival where Dizzee Rascal, Kate Tempest and Frightened Rabbit can share the same set times and each thrive. It's the type of festival that deserves to flourish. 
Other Electric Fields highlights: Sacred Paws, Shogun, Crash Club, Future Get Down, Real Estate, Aldous Harding, Lee Clark, SKJØR