Belladrum Tartan Heart Festival 2017: The Report
From KT Tunstall to Young Fathers via Rhythmnreel, Tamzene and First Aid Kit, we take a closer look at this year's sold-out Belladrum Tartan Heart Festival
On its ninth successive sell-out, Belladrum remains a local celebration. This shouldn't be a surprise. The festival's full name is literally 'Belladrum: Tartan Heart Festival'. Most locals know it as Bella, a comforting shorthand given to an event now embedded in Highland culture. Its line-up is built on home-grown talent, and trad and folk is represented as much as any other genre. Every opening night finishes with an unofficial headline slot from Rhythmnreel, whose merry ceilidh set always fills out the Grassroots tent. Fiddle player Debbie Ross still tutors at this reviewer's former secondary school, where she's an unsung hero; you get the feeling that everyone in the crowd knows at least someone on stage.
2014 was a turning point for the festival. The messy end of Rockness left a space open for Bella to take the lead as the Highland's flagship festival. The result was bigger headliners, more stages and a near-guarantee of selling out. This change has been great in the increased credibility and diversity its given the festival, but it also means that Bella doesn't really have to try to make its money back. As a result, recent years have seen repeat headliners and additional charges for Thursday tickets.
But Bella are taking risks this year. They just launched a record label (local singer-songwriter Tamzene is the first signee). Two new stages, the Temple of Dub and the Trailer Trash Saloon add to their already strong collection for a festival of this modest size. Clearly, Bella has larger ambitions than their humble beginnings suggest, and they're panning out. Bella manage to please their regulars while offering a line-up that's brimming with new blood.
Pop-country duo First Aid Kit outclass everyone on Thursday. Their songwriting has always been assured, and their harmonies undeniably impressive, but there's a meticulousness to their music on record that could potentially make for a clinical live show. Their set is anything but.
Klara and Johanna Söderberg deliver a fiery, charismatic set that's driven by their control over a melody. The sisters switch roles as lead storyteller, while their backing band expand on these delicate folk tunes with pedal-steel, trombone, synths and other resonant instrumentation. Though singalongs My Silver Lining and EmmyLou have a special kind of warmth, the standout moment is You're the Problem Here. It's a protest song that deals with sexual violence and the degradation of women with a rare directness. The single was first written in honour of International Women's Day, but it's most powerful when breathing out in the open. The sisters and their words command attention.
Of Friday's acts, the new talent stands out most. The morning begins with Edinburgh indie-pop quartet Indigo Velvet, who pack the Hothouse tent with tropically-tinted guitar music. There couldn't be a more fitting way to start a day; everything from their name, to their giddy choruses to their colourful shirts is festival-ready. The band's sturdy collection of singles call back to Bombay Bicycle Club and Foals with sticky grooves and a sunny sensibility, while the vocal harmonies could be lifted straight from a hot boyband. Despite the relentlessly upbeat approach, there's a passion to the band that makes them instantly likeable – the fact that guitarist Jason Tucker manages to shred a drumstick while bashing a tom during a breakdown is proof of that.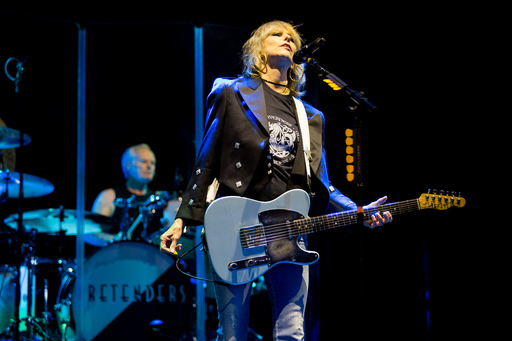 [The Pretenders by Amy Muir]
Over on the Seedlings stage, The Ninth Wave face a difficult clash with co-headliners The Pretenders and Twin Atlantic. The tent is nearly empty because of it, which is a real shame for a promising act who out-perform their competition. The girl/boy vocals are sharp and precise, and their stark post-punk and dramatic goth textures are elegant. Every member seems to move in unison, but most importantly, The Ninth Wave's songs are strong. It's rare for a band to nail their musical identity before their debut album, but this lot have managed. They're only playing to a handful of people, so perhaps it's unfair to wish for a wilder performance to match their aesthetic, but that'll surely come when the group have settled into their inevitable success. Mostly, they're a joy.
The relatively reserved performance of The Ninth Wave stands out more because of how hard synth-pop band BooHooHoo went earlier in day, though playing to a similar-sized crowd. The group perform and sound like a satanic Scissor Sisters mid-ritual, and even play with a hypeman, who flits between shirtless bedroom-dancing and RuPaul-level sass. He knows every word, and matches choruses with choreographed body-popping. His energy would make you think he'd made it into a Kylie music video. We don't blame him; the songs are worth the sweat.
We're all for local pride, but putting The Dangleberries on the mainstage for the umpteenth year is a step too far. The group's bagpipe rock brings in a crowd on Saturday afternoon, but to put it bluntly, it's soul-sapping. Their rigid covers of popular anthems include a version of Saint Motel's My Type that removes any life or syncopation, and their flat take on Caledonia verges on sacrilege. The set sadly suggests that Bella still rests on the safe option too much.
It's hard to give yourself to their bleating choruses when fantastic acts find themselves relegated to the small tent by the dodgems; Nicky Murray's aching folk set proves too delicate for the Seedling Stage, its many great moments drowned out by vuvuzelas and 'SCREAM IF YOU WANT TO GO FASTER'. (The mixing at Seedlings has always been poor. Thrashy and folky acts both get sold short because of it).
There's no chance of pop duo Bossy Love getting drowned out at the Hothouse. Their sharp club bangers are made even more exciting through the bursts of live instrumentation in this setting. John Baillie Jr turns out to be a fantastic drummer as well as a producer, while Amandah Wilkinson's fluid, commanding vocal presence could bring anyone out of a Dangleberries-related funk.
The set of the weekend comes from Edinburgh's Young Fathers, who balance punk aggression and melodic sweetness. Their overblown lo-fi sound translates incredibly live. The bass is turned up so loud that if feels as if the trio must scream to be heard, and they've got the energy and skill to pull the trick off. The drum kit doesn't stop shaking on its pedestal throughout.
During the swirling, tribal chants on Queen is Dead, the band lurch forward and backward; the microphone stands look as if they could snap at any given moment. Despite the cacophony, each song is distinct, with its own production details and ambiguous moods. Set closer Shame works as a rallying cry, a party anthem, and a diss track. The band pull so many shades out of brittle electronics and a few lines of lyricism; this is what it sounds like when Bella takes risks.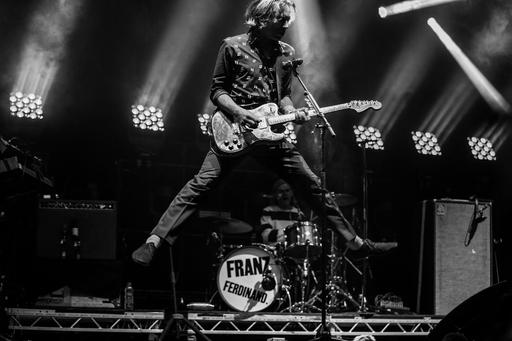 [Franz Ferdinand by Amy Muir]
Other Highlights
Franz Ferdinand brought high-kicks, chanting and tunes tunes tunes. Over a decade since their game-changing debut and they're still one of Scotland's best live bands.
Thursday headliners Sister Sledge shoot for positivity and a party. There couldn't be a better ode to Joni Sledge than a near twenty-minute jam of We Are Family. Her sisters are joined by her son on vocals.
Honeyblood are an obvious highlight, their gutsy garage-rock pulling a healthy crowd to the Garden Stage on Friday. The duo's no-frills style adds to the heft of their personality-driven songs.
Some legacy acts merely played songs rather than performing this year. KT Tunstall performed. Her swaggering interpolation of Seven Nation Army during Black Horse and the Cherry Tree made for one of the brightest moments of the festival.
Scandi folk pop trio I See Rivers use their delicate harmonies and toybox of instrumentation to tackle Fever Ray's If I Had a Heart. It's a bold choice, but the group have a lightness that contrasts well with the murky original.
Colonel Mustard & The Dijon 5's army of fans are on full show on Saturday. We've never seen so much yellow in one place.