Enter David Lynch's Factory Photography with HEXA
A GFF17 highlight looks to be HEXA's sonic response to David Lynch's Factory Photographs, the legendary director's collection of black-and-white stills capturing the ruins of industry across the UK, USA and Europe. We discover how the duo will take us inside these menacing images
David Lynch has made a career of creating gorgeous films about fear and anxiety. From the nightmarish inner-city hellscape of Eraserhead to the debased core at the heart of Blue Velvet's suburbia, via the dark underbelly of Hollywood in Mulholland Drive, Lynch has shown a knack for finding beauty in degeneracy. It makes sense, then, that while in the UK scouting for locations for his 1980 film The Elephant Man, he would fall in love with the crumbling factories and looming smokestacks of what would soon be post-industrial Britain.
"I love industry. Pipes. I love fluid and smoke," Lynch has said, "I love man-made things. I like to see people hard at work, and I like to see sludge and man-made waste."
The product of this ardour for brutal industrial architecture is Lynch's Factory Photography, a black-and-white stills series which began with those Elephant Man location photographs and continued throughout the 80s, 90s and early 00s, taking in abandoned warehouses and factories in various locations including Germany, Poland, New York and New Jersey.
At Glasgow Film Festival, HEXA (Australian artist/composer Lawrence English and Jamie Stewart of Xiu Xiu) will perform an auditory response to the disquieting silhouettes, blasted interiors and billowing chimneys Lynch captures on camera. Appropriately enough, the performance takes place at one of Glasgow's great repurposed industrial buildings: The Glue Factory.
We spoke to one half of HEXA – Lawrence English – about how they went about creating a soundscape that puts audiences inside Lynch's menacing industrial images.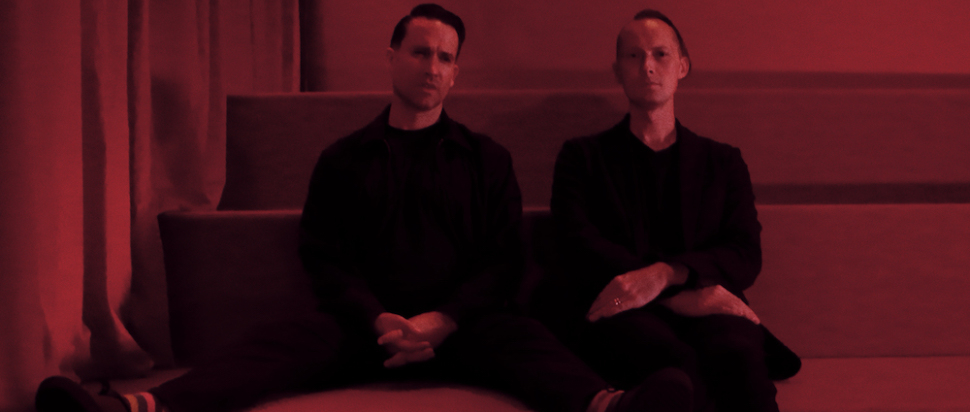 HEXA
The Skinny: Lynch seems to have a strange relationship with these buildings. There's such fear and anxiety in the images, but he clearly finds them beautiful too. How do you respond to them?
Lawrence English: David's Factory Photographs are some of my favourite artworks by him, as they speak to a very unique and profound shift in the final throes of the 20th century. What David has captured is the critical pivot away from an industrial economy, and effectively the dying breath of the industrial age. The images, especially when examined chronologically, really reflect on these final moments of a way of being, a way of creation, a way of life to so many people and towns across the western world.
Today, especially in countries like North America, that industrial heritage is now just rusted shells, a broken promise. We were told in the grand economic narratives that the mass production of the 20th century would continue to fuel growth and the promise of 'better' lives. David's photos show that these claims were hollow. They are a beautiful obituary for a time that has passed.
What initiated your sonic response to Lynch's Factory Photographs?
When José Da Silva, the curator of the Between Two Worlds exhibition, and I were talking about potential works to become part of the new commissions from this exhibition we arrived fairly promptly at these works. I've always been a huge admirer of Factory Photographs and to me they hold a very special relation to sound. Looking at the images you can almost hear them.
This might sound a little confusing, but I feel strongly that there's a latent sonic aspect to Lynch's photos, like the spectres of the sound are residing within the photographs. So, when we started to work on the materials that became Factory Photographs, both Jamie and I had this in our minds. How the sound might leak out of the photographs, we wanted to capture that spectral quality of the latent sound.
What did you come up with?
We spent a good deal of time thinking about how it is we could extract that sensation that was so apparent to us. We also discussed the sonic aesthetics and questions of noise and physicality as it related to the idea of the human body embedded in the world of machines. Some of the loudest and most unapproachable sounds I have ever encountered were in factories. These places have no interest in us as beings and this is ever apparent in the rise of the machine in replacing us as the facilitators of whatever their ongoing path into the future might be.
Did you take any influences from the scores Lynch and his collaborators have made for his films over the years?
Jamie and I spoke at length about a whole range of considerations for the project. Especially around how  the sound should approach the photographs. The last thing we were interested in was a literal reading of them. One thing that struck us both about the images was the latent sound carried within them. It was as if the sound of those spaces lingered and haunted the images themselves. There's a very specific condition that the images convey, in that they somehow maintain or in the very least suggest a sense of the acoustic properties of the spaces.
Do you see echoes of Lynch's films in the Factory Photos?
Most certainly. Many of the images are directly related to the film works. In fact the final series of images from Poland were collected around the time Inland Empire was being created.
All around the UK, and around the world, people are creating interesting art in abandoned industrial buildings and performing weird and wonderful music there. The Glue Factory, where you're performing at GFF, is a perfect example. Why do you think these buildings inspire such creativity?
There's something so compelling about decay. That somehow in these buildings we recognise our own impermanence. There's a sense of what can be, or more so, what could have been when you encounter an abandoned space. It represents such a profound possibility that wasn't realised or couldn't be continued into the future. I think that sense of the temporal nature of our creations in the world is always something to consider and contemplate. It's hardly surprising these spaces affect us so deeply.
---
HEXA present a sonic response to David Lynch's Factory Photographs at Glasgow Film Festival: 19 Feb, The Glue Factory, 7pm
The event opens with a screening of Chris Marker's La Jetée with new live narration by Alasdair Hankinson and score by sound artists Tim Shaw and Sébastien Piquemal. Runtime below:
7pm – doors
8pm – La Jetée
9pm – HEXA's sonic response to David Lynch's Factory Photographs
10pm – Djs
Read more about Glasgow Film Festival in The CineSkinny – in print at Glasgow Film Festival venues and online at theskinny.co.uk/film/cineskinny