Platform 2016 at Edinburgh Art Festival
Edinburgh Art Festival sets up Platform, its emerging artist set of exhibitions at the very centre of its map in the Kiosk. This year marks another diverse grouping of some of the most exciting emerging talent from around the country with two duos and two solo presentations
Now in its second incarnation, Platform offers emerging artists the opportunity to showcase their work to the Edinburgh Art Festival audience. At a time when Scotland's capital is heaving with culture, it can often be hard to decide what to see and do in amongst the cacophony of the festival season, but Platform promises to highlight the work of some exceptional young artists to keep an eye on.
The works and performances will be showcased at the epicentre of the festival, within the Edinburgh Art Festival Kiosk on Blair Street. It's a strong statement that these four individual artists or collaborative groups are not merely a nod to emerging artists, but that the Art Festival itself feels they are at the heart of Scotland's artistic future.
As the cultural climate shifts so precariously in a time of bewilderment and dismay, Platform offers an outstanding opportunity to explore those artists whose practices will be navigating the treacherous cultural landscape to come. Many of these artists' works have been showcased in the RSA New Contemporaries, or the New Scottish Artists in London's Fleming Collection, but never before has there been such an incredibly diverse and unique collection of emerging artists works on show within the festival season.
Collaborations
The Skinny had an opportunity to talk to those taking part in this year's incarnation of Platform, and there was an overwhelming sense from all of the artists that despite not working directly together to create Platform, there had been different moments of exchange between the contributors.
As the Brownlee Brothers explain: "It has been interesting during install as there are a couple of collaborative practices on show. Hearing snippets of Aniela Piasecka and Paloma Proudfoot discussing the placement of sculptures and how the performance will work around them has made us consider how other artists go about collaborating with each other."
During their interview, exhibitors the Brownlee Brothers mention a kind of "sanctity" that they think might resonate through the show, and indeed many of these artists' practices. The notion of ritualistic tradition is eked out of the performance works by Paloma Proudfoot and Aniela Piasecka, which push the boundaries between the ludicrous and the sporting, between physicality and its fragility. Likewise, the Brownlee Brothers' work Lying on the Temple Floor instils the slightly ridiculous humour into works highlighting rote and religious signs.
Paloma Proudfoot and Aniela Piasecka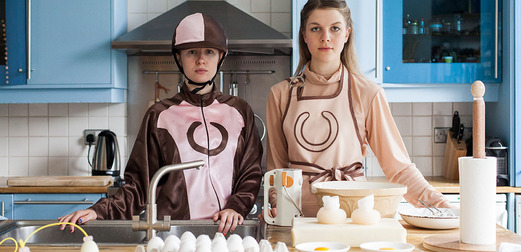 Ceramicist and performer Paloma Proudfoot and Aniela Piasecka will be presenting a series of performances throughout the festival. Titled Made to be Broken, the project will centre around the notion of "taking control and losing control," between the push and pull of vulnerability, both within the individual artists' practices, and within the relationship those practices have with one another.
Unlike much of their previous work this performance will not involve both of the artists as Proudfoot has deliberately given her ceramics over to the performance itself, pushing the boundaries of artistic will and control by fully letting go of her ownership of the pieces and how they're handled, and leaving Piasecka in control.
This control however is limited by Piasecka's own physicality and power – both of these artists are pushing their own vulnerable boundaries in both practice and performance. Made to be Broken will be a re-imagining of what it means to create sculpture and perform whilst also being aesthetically intriguing and illustrious.
Dorian Jose Braun
The notion of the great unknown in performance practices, of making something tangible and unrehearsed real is a shared sensibility of another of Platform's artists, Dorian Jose Braun. Braun's interdisciplinary practice has enquired into the history of sound, through audio and video works and self-made instruments.
Like Proudfoot and Piasecka, Braun seems to share an interest in the notion of leaving himself up to the unknown or the unforeseen: "I sometimes come across things that I find I know nothing about but still carry on. I trust that through this persistent process the work might reveal something. I start working and then go further and further until items or ideas start revealing themselves and the works start speaking." 
Despite Braun being represented as a solo artist, his practice is possibly the most collaborative of all those represented by Platform this year. It's no surpise that in the past he also worked as an artistic duo. Now he works with a changing range of collaborators, as Braun explains: "It has been exciting for me to discover new ways of working... In the past I have collaborated a lot but never to this extent."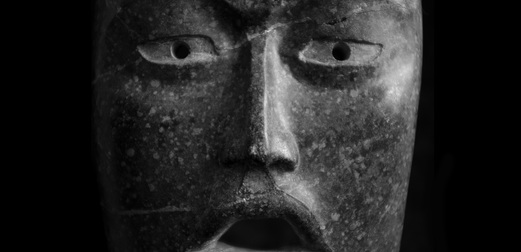 For this work, he's worked with multiple different artists, singers, as well as music recording and mastering professionals between the Netherlands and Glasgow and each production is developed with the specialist knowledge of his collaborative partners. Like the work of Proudfoot and Piasecka there is an overarching vulnerability to Braun's work rooted within the unknown, the push-pull of relying on other people.
He documents one specific interest in exhibition, "about a violin design from Inverness." It was after visiting the Inverness Museum archives that he became "more and more interested in [musical instrument maker] Alexander Grant's Rondello," a disc-shaped violin. With the artists Cristina Garriga, Claudio Crist and Jasper Coops, he documents his own attempt at making the instrument in an artist's book. 
Though "Scotland specifically for this exhibition is intrinsic" to [Braun's] work, the sound work he includes was recorded in the Netherlands, which for him "is equally important… All the elements that let the recording happen were very specific to that time and place." It was in 2015 that he spent three months in Holland on residency and made the work he'll show in Platform, which begins with the Prologue to Goethe's Faust, as it poetically imagines the "sound of the sun."
Thinking of how his work will interact with others, Braun imagines the sound "will move into other rooms and possibly affect the works of the other artist showing in the exhibition. It might be present throughout the viewer's stay in the space." Though he's hesitant to say for sure how it might operate as he installed his first, the Brownlee Brothers made a special point to mention how "Braun's sound piece pulls you into the space and adds sanctity to [their] sculptural work."
The Brownlee Brothers
Comprised of Calum and Fraser Brownlee, The Brownlee Brothers have been collaborating together since 2012. As fourth generation Dundee publicans the Brownlee Brothers don't consider themselves as coming from the most conventional art background: "Our father/grandfather/great grandfather all owned pubs around Dundee and became quite infamous in the trade. Even now you still get old boys stopping [us] in the pub then proceeding to tell a story about how when Lochee United won the cup [our father] filled the trophy with voddy and coke and everyone passed it round the pub."
They count their background as very important to their practice. "The people we meet and stories that are shared influence a lot of our work. This warped narrative is present in our practice and we often borrow imagery from religious artefacts, masonic symbolism and prison tattoos to investigate its meaning and significance in today's culture."
Their work may explore the loaded connotations of symbols and signs and the bombardment of complex understandings surrounding this imagery, but as a work Lying on the Temple Floor refuses to take itself too seriously. As the Brownlee Brothers explain: "Scotland is really important to our practice. We take it for granted, but we are surrounded by an enormous amount of history and culture. It is something that we often reference within our own work – playing with colloquial norms and this self-deprecating humour that the Scots have perfected."
For Platform, they describe the work as "a natural progression" from their exhibition in London last year as part of New Scottish Artists 2015. "We used 50 custom embroidered patches and 50 shop bought patches to create a large scale textile piece entitled Mort Cloth. It was the first time we had used iconic logos in our work and considered how branding is being used all around us for both positive and negative means." They describe the importance of "sigil magik," which allows ideas and views to be condensed into a single, "simple icon."
Jack Saunders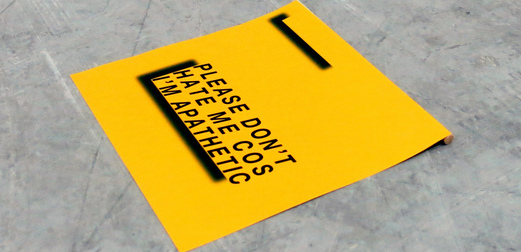 Perhaps sharing some similar sensibilities to the Brownlee Brothers, Jack Saunders explores the poorly defined realms of the conscious and the subconscious: "I see my practice as one big train of thought, irrespective of occasional, seemingly disparate works. All the works I'm making at the moment are influenced by all the works I've made previously, whether I'm aware of it or not."
For Platform: 2016, Saunders sets out to reflect on the restructuring and reordering inherent to the cyclical nature of life: "If I had to point to the unifying thread between my most recent works, I'd say they are all addressing ideas of pressure, tension and confusion.".
Like all of the artists included, Platform exhibitor Jack Saunders does not align his work with any specific medium. For the show, he'll be including photographs combined with large text (a framed image of a washing line, above a large 'PFFT') and longer poetic texts. There's also interest in icons and logos, with a neon rendering of a steaming hot dog in a bun included amongst Saunders' multimedia works.
Though putting together this grouping for the exhibition, he explains that he doesn't "set out to make bodies of work." Nevertheless, of the parts of his practice that have stayed consistently important, he describes "the idea of misrepresentation and the subjective nature of preconceptions" and "addressing ideas of pressure, tension and confusion."
Saunders is hesitant to draw together themes for Platform, having not "really had a chance to investigate [the others'] work in much detail," but for him that's in "itself exciting… exhibiting alongside strangers – with the initial connection coming via converging practices opposed to a physical or social connection." From the observations he's made so far, "it seems a lot of the work connects through the opposing ideas of fragility and strength. This seems to be evident in all the works, whether it's in an emotional sense, a hypothetical sense, a material sense, etc."
New Boundaries
All of the artists represented this year share an uncanny train of thought: notions surrounding the vulnerability of consciousnesses, a heightened awareness to pull apart the signs, rituals and sounds we experience every day to unearth something murky and disturbing.
Perhaps due to the cultural climate these artists are working in, or maybe a kind of collective unconsciousness of the creative community, every single one of these works promise to reveal new boundaries to push against.   
---
Platform 2016 is at Edinburgh Art Festival Kiosk until 28 Aug