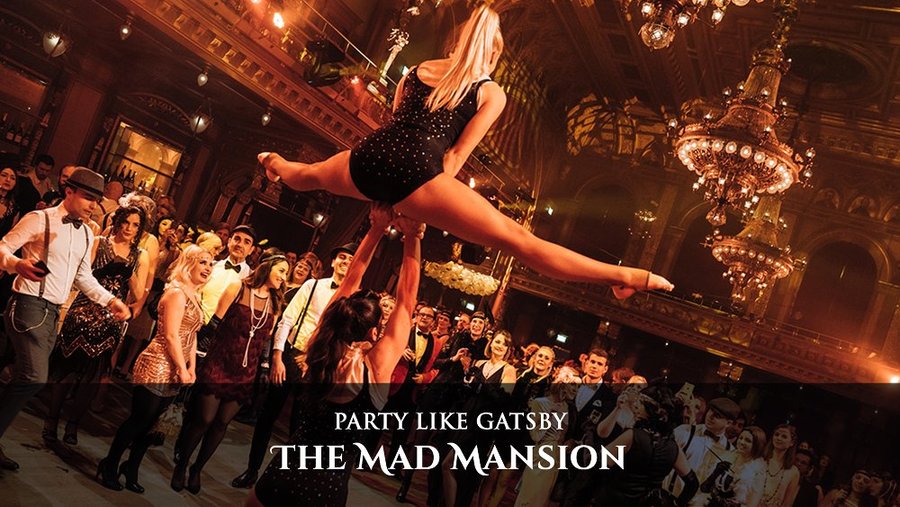 "A year has 365 days. My mission is to present you the most memorable and magical night of these days." – Jay Gatsby
It was 1922. Prohibition, alcohol, and excess. Jay Gatsby's Mad Mansion was a place of spectacular shows and grand parties. It was where glamour approached chemical madness. In the centre of it, the mysterious Jay Gatsby.
Party Like Gatsby presents The Mad Mansion Tour – an immersive show and party unlike anything you've ever experienced, visiting more than 15 cities. For four years, Jay Gatsby and his entourage of extraordinary artists have been dazzling guests across Europe. Let magic spark and be paralyzed of happiness. Dress up in your finest attire and lose yourself into a fascinating world of Roaring Twenties madness. Only one question remains: Who is this Gatsby?
The Mad Mansion Tour comes to Glasgow (2 Mar) and Edinburgh (3 Mar) in March. We've three pairs of tickets to give away to the events in each city. To be in with a chance of winning one of the pairs, simply fill in the form below and correctly answer the following question:
Who wrote The Great Gatsby?
a) Dan Brown
b) F. Scott Fitzgerald
c) E. L. James

Competition closes midnight 26 Feb. Entrants must be 18 years old or over. Winners will be notified via email within two working days of closing and will be required to respond within 24 hours or the prize will be offered to another entrant. Our Ts&Cs can be found at theskinny.co.uk/about/terms
For more information on Party like Gatsby and for The Mad Mansion Tour tickets, head to www.partylikegatsby.eu