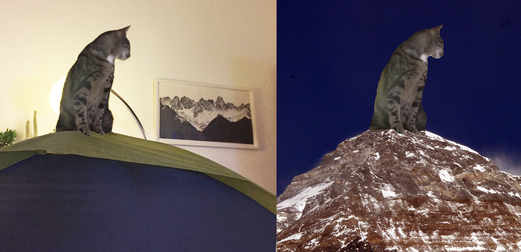 'Climb every meow-ntain'
With yet another pair of cats to compare here, you might say we've reached peak Spot the Diff. But we need your help. One's got a cosy night in the pipeline, the other's about to be a frozen feline. One's demonstrating camping aptitude, while the other's opted to go high altitude. But which is which? We don't mean to make a mountain out of a molehill, but we'd really like your help.
We've got one copy of Taduno's Song by Odafe Atogun up for grabs courtesy of the cool cats at Canongate, and you could be in with a chance of winning. Pitch us your answer and you too could be a happy camper. Follow your dreams; climb every meow-ntain. Or summit.
Competition closes midnight Sun 1 Oct. The winner will be notified via email within two working days of closing and will be required to respond within 48 hours or the prize will be offered to another entrant. Our full Ts&Cs can be found at theskinny.co.uk/about/terms