Liverpool's Illuminations: The Skinny Guide to LightNight
Now in its sixth year, LightNight is more epic than ever. We chat to organisers Open Culture and some of the participating artists about what makes this city-wide festival so special – and select our highlights
Taking over Liverpool for the evening on Friday 15 May, this year's LightNight brings more than 100 venues and events across the city together under the theme 'Looking to the New World.'
"LightNight is important because there's just so much happening here in Liverpool," says Christina Grogan, of LightNight organisers Open Culture. "There is such a broad mix of artists creating work. The festival is a true reflection of the art scene in Liverpool as it is a city-wide collaboration open to everyone – individual artists, independents and collectives working alongside major art galleries and organisations. We could never include absolutely everything but it shows what we can do when we all come together.
"We don't usually get the chance to explore museums or heritage buildings at night-time, so it feels special – like you're not really supposed to be there," Grogan adds. "Because of that I think as an audience member you are more open to the experience. When you're little, night-time is when you're supposed to be asleep in bed, when your imagination comes to life in the darkness and when everything feels more mysterious and magical, and I think that echoes through in later life."
LightNight starts at 4pm and to get the full evening experience it's worth planning to start right on time. To get a handle on what you want to see, a good idea would be to order the guide (it's only £5 and helps to raise funds for the event and future events) from lightnightliverpool.co.uk or visit the LightNight festival hub at LJMU Rodney House on Mount Pleasant on the evening itself (open from 4pm).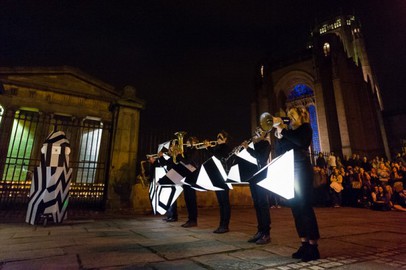 Sound Battle at LightNight 2014 | image: Pete Carr
Liverpool LightNight, Friday 15 May – our guide: 
If you have younger members in your party, a good starting point could be the Miniclick collage workshop at Tate Liverpool (4-9pm, free), which will take inspiration from the brilliant György Kepes exhibition (ground floor gallery, free) and create collages based on his work. The finished collages will be published in a newspaper over the weekend and be distributed across the city.
It would have been super to see Tate Liverpool open their current exhibitions, Leonora Carrington and Cathy Wilkes, for free tonight but alas it will still cost you £8 (£6 concessions) with a last entry at 8pm. These shows, however, are well worth a look and if you're heading down this way it's also worth noting that the Tate Cafe have a LightNight happy hour between 5-9pm, with two cocktails for £8.
If you're up at the festival hub on Mount Pleasant, check out some of the students' offerings, in particular the LJMU Screen School Degree show (LJMU Redmonds Building, free), demonstrating the film, performance and reportage talent from this year's cohort. The show starts at 4pm (and runs 'til 9) so could also be a good place to start your LightNight and will feature live performances, pop up drama and film shorts. Look out for film studies student Drew Hyland with his documentary on British wrestling and short thriller feature on sleep deprivation, and media production student Lois Frost's prototype website that captures family memory. This year also sees LIPA's first inclusion in the LightNight celebrations: Follow the Moth will take place in LIPA's gardens on Mount Street, wherein a giant cocoon and projections will take visitors on a magical journey through the eyes of a moth and finish with a light show in the windows of LIPA's building on Hope Street, showcasing the work of the students. The light show will take place every 15mins from 9-10.15pm (free).
A particular highlight will be the launch of 2015's LOOK photography festival (running 15-31 May). This year's theme is 'Exchange,' celebrating the dialogue between three subjects often overlooked in photography: women, migration and memory. The festival rounds up current photography exhibitions in the city (for example, the excellent Tony Ray-Jones/Martin Parr exhibition at the Walker, open 'til 10pm on LightNight) as well as opening a whole host of new ones. Our pick of the bunch is Helen Sear, currently installing her exhibition at the Venice Biennale representing Wales, with the exhibition I Love You Daucus Carota at the Victoria Gallery & Museum (5-10pm). Sear's flower heads play on the temporality of life and the legacy of art and photography in the Victorian Age. We also recommend the new exhibition at Open Eye Gallery, Open 1, which features work grouped around the theme of 'social portraiture' (4-10pm). All these shows are free.
---
"When you're little, night-time is when you're supposed to be asleep in bed, when your imagination comes to life in the darkness... I think that echoes through in later life" – Christina Grogan
---
With so much to see just for LOOK/15 we asked Emma Smith, executive director of LOOK, what would be on her agenda for the evening. "My own journey will [take in] the unveiling of Women in the City, our open call exhibition that I am unimaginably excited about," she says. "The public's interpretation of the brief has been witty, thoughtful and imaginative and with entries from and representing women across the globe it has exceeded expectation."
"I'll then be hitting Warp Liverpool, where we have four shows (two international and two local) in a space commissioned just for LOOK/15. Here we'll be showing Exchange: a Group Show, with work from Hugh Baird, the Texas Photographic Society and City of Liverpool College, alongside a solo show of Jona Frank's The Modern Kids. From there, I'll be stopping at Open Eye Gallery for their Open 1 show before heading over to Tate Liverpool for our installation feature of the evening, featuring Anna Fox and Yousef, before finishing the night up at Constellations for Michael James O'Brien's Girlfriend and Disco Glitter Love." Sounds pretty busy! "If my night weren't already mapped out, I would probably be looking at the work LJMU are doing with optics, stopping by the Bluecoat and calling in to see some shorts at A Small Cinema."
For those who haven't visited A Small Cinema on Victoria Street yet, LightNight is the perfect opportunity. The cinema will be running a screening project, One Minute Volume 8, by artist-filmmaker Kerry Baldry composed of films all under 60 seconds long. "The idea," says Baldry, "originally started for a screening in the gallery space at my studio when I was living in Manchester. The One Minutes are an eclectic mix of approaches, techniques, media and processes all having one thing in common – that they have been edited within the time limit of 60 seconds – and the programmes include artists at varying stages of their careers including established artists such as last year's Turner prize winner Laure Prouvost through to recent graduates." The programme will last for 50 minutes and starts at 4pm, being repeated throughout the evening until 11pm (free, donations appreciated).
Later on in the evening, head over to the Anglican Cathedral for artist Andy McKeown's Kaleidoscopic Disturbance 175. The installation, says McKeown, "is made up of a series of fragments from the cathedral's stained glass, mixed and blended live to create a continuously changing kaleidoscopic ceiling to the tower and will be best viewed lying on the floor. There is also a soundscape, 'mechanisms', that will run between choir performances – a mix of analogue, hybrid and digital synths and samples creating an underlying soft drone that drifts throughout the space. I will be mixing the kaleidoscopic installation from the projection point and chatting to the audience as it develops." Visitors are encouraged to bring their own mat or cushion and settle in as the installation unfolds. It's always a bit of a treat to see contemporary art in the Cathedral and this one, especially so late at night (it runs 9.30-11.30pm, and is – yes – free!), should provide a perfect ending before you go on to whichever LightNight afterparty of your choosing.
So, where do you end up on such an art-packed, wine-imbibing, hopefully balmy May night? Well. Our recommendation would be to head back down to Open Eye Gallery. The Faux Queens will be DJing 8-10pm and the gallery will also be holding a lantern making workshop (4-7pm), before launching the lanterns (9-11pm) on the nearby canal. Then you can head off to the official LOOK/15 aftershow party at Constellations on Greenland Street, where there'll be entertainment and dancing 9pm-2am with sets from LA producer and artist Baron Von Luxxury and London-based duo House of Disco (all o' that's free, with donations on the door for the LOOK/15 party).
Then: sleep. For a really long time.
---
More from The Skinny:
---