Witchhammer
Powerful piece of allegorical film-making from Otakar Vávra, which compares 17th century witch trials to Czechoslovak Communist show trials of the 1950s
Starring:
Elo Romancik, Vladimír Šmeral, Soňa Valentová
In adapting Václav Kaplický's 1963 novel about the 17th century witch trials in northern Moravia, director Otakar Vávra drew upon "authentic court recordings of Inquisition trials" – but admitted that his real inspiration was the Czechoslovak Communist show trials of the 1950s. As such, Witchhammer emerges as an allegory, a film firmly within the lineage of works that use witch hunts as a basis for political commentary, rather than for exploitation thrills (though the film is not without scenes of shocking violence and full frontal nudity, the latter being used to express both the initial sensual innocence and the eventual humiliation of the women under trial).
The inquisition begins when a hobbled old woman is caught stealing the communion wafer – she has been told that the Host will help replenish a non-milking cow. An Inquisitor is brought in to cross-examine the woman and root out the witches, but the trial quickly escalates as his desire for wealth and power spirals out of control. If the allegory feels a little thinly veiled at times, the film deserves praise for the clarity, focus and raw power of its storytelling.
Extras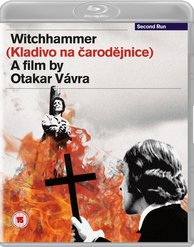 Released by Second Run in both Blu-ray and DVD editions, the new HD transfer handsomely shows off Josef Illík's stunning cinematography. Extras include Vávra's excellent early short The Light Penetrates the Dark (1931), an experimental montage with a rhythm typical of the silent era's avant-garde. Contextualising Witchhammer are an informative printed essay and video piece, the latter of which compares the film with several other Second Run releases – including four films with which it shares a co-writer, Ester Krumbachová: The Party and the Guests, Daisies, Fruit of Paradise and Valerie and Her Week of Wonders. Much like those films, Witchhammer is an essential purchase. [Alex Barrett]
Released by Second Run