One-Eyed Jacks
Brooding western about a young man (Marlon Brando) who seeks revenge from the accomplice (Karl Malden) who betrays him during a bank robbery
Film title:
One-Eyed Jacks
Starring:
Marlon Brando, Katy Jurado, Karl Malden
One-Eyed Jacks is best known as being the only film that Marlon Brando ever directed. Originally it was to be Stanley Kubrick's sole western, but Brando (who also plays the lead) ended up taking it over. Sam Peckinpah and Rod Serling were the uncredited screenwriters.
Coming out in 1961 and loosely based on the story of Billy the Kid, it's the first revisionist western, although it's shot in the traditional style – in VistaVision with wide shots. It's your simple revenge tale. Brando's character, Rio, robs a Mexican bank along with Dad (Mauldin). Dad leaves Rio in the lurch, and Rio is caught and jailed – he subsequently escapes and seeks payback..
One-Eyed Jacks is more sadistic than traditional westerns, and full of Catholic symbolism. By using Billy the Kid as a starting point, it gets to the heart of Western reality. With Brando as the lead and director, and the Freudian aspect of his partnership with Dad, the film attempted a new take on the genre. Part of that involved bringing a new kind of actor into the western, with great character actors like Slim Pickens, Timothy Carey and Ben Johnson among the cast.
Peckinpah's involvement has a heavy influence on what's seen on screen, with Brando delivering the harsh violence that "Bloody Sam" would become known for, rather than the more genteel John Ford treatment. It bridges the gap between those older films and what Peckinpah and other filmmakers would be doing just a few years later.
Edit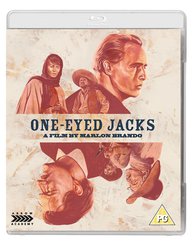 For years the film was in public domain hell, but there is a new 4K restoration by Martin Scorsese's film foundation. It has been very well received, and seems to have saved One-Eyed Jacks' reputation. Features include a BBC documentary on Brando, interviews, commentary and more.
Released by Arrow Video